Real estate is weird. Looney Listing exists to highlight the weirdness that agents put on the MLS in alleged attempts to sell the homes they are representing.
Update Schedule
For the time being, Looney Listing is updated with new listings most weeks on Monday, Wednesday, and Friday. We would love to update even more frequently should we receive enough user submissions to do so.
Which brings us to…
How to Submit
Just click "submit" at the top of the page, fill out the form, and click send. It's that easy!
How to Contact Us
Just click "contact" at the top of the page, fill out the form, and click send. It's that easy!
What's With the Doll?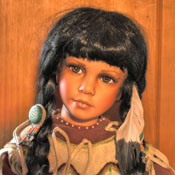 Looney Listing's official avatar comes from one of our favorite bizarre listings of all time, spotted by Seattle Bubble in March 2012. In a mere fifteen photos, the listing agent managed to fit a ghost jogger, a random fountain, a stone fairy, an awkward attic dining scene, and a closeup of the American Indian doll seen at right.
Yeah… it was weird.
Inspiration
Looney Listing was primarily inspired by Lovely Listing, a bad listing photos site that was started by Sara Lorimer in April 2008. It was purchased by the "Cheezburger Network" in August 2010, but apparently failed to meet Cheezburger's strict LOLs per hour quotas, as they shut it down in August 2012.
We could never hope to replicate the unique mix of bad listing photos, bookshelves, and chairs lovingly curated over the years at Lovely Listing by Sara (and later her LOLCat minions), and we won't attempt to. If you're looking for a site about design, you'll need to look elsewhere. If, on the other hand, you just want to see some crazy real estate listing photos… you're in the right place.