…to a deluxe apartment in the sky-y-y…
The Upper East Side of NYC is a rarefied atmosphere, the proverbial lap of luxury. With the Guggenheim next door and the Metropolitan Museum of Art just down the street, it's one classy neighborhood, underscored by the $23.5M price tag on this single floor co-op. With that sort of clout a bit eccentricity is to be expected with, say, the choice of decor palette…
…or the scale and number of large patterns. Or both. This "interesting" color-pattern combo continues in the bedrooms.
Oh. My… Well, at least it can't get any worse. Probably.
OK, I was wrong. Take all of the above and add… sage-green striped bedspreads? And a trellis patterned carpeting with… a turquoise background?
I'd ask someone to pass the Pepto Bismol, but I think they used it all on the ceilings.
If you hadn't guessed already, you finally, truly know it's bad when this hallway is actually a relief.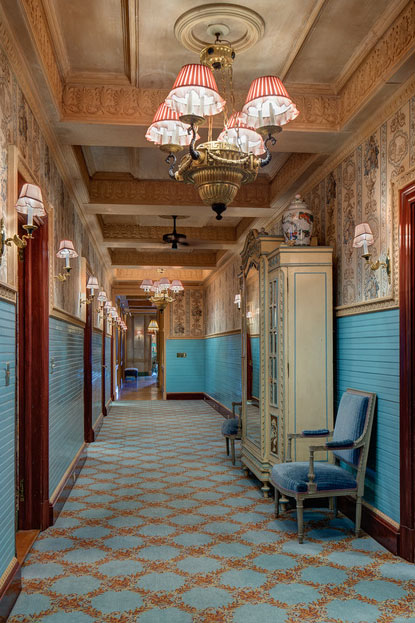 Horizontal bead-board isn't usually associated with luxury, let alone painted turquoise, but at least it's (somewhat) better than this chair with extremely odd upholstery…
I… uh… what?
If there were such a thing as a Crime Against Prime Real Estate this place would be guilty of multiple counts.